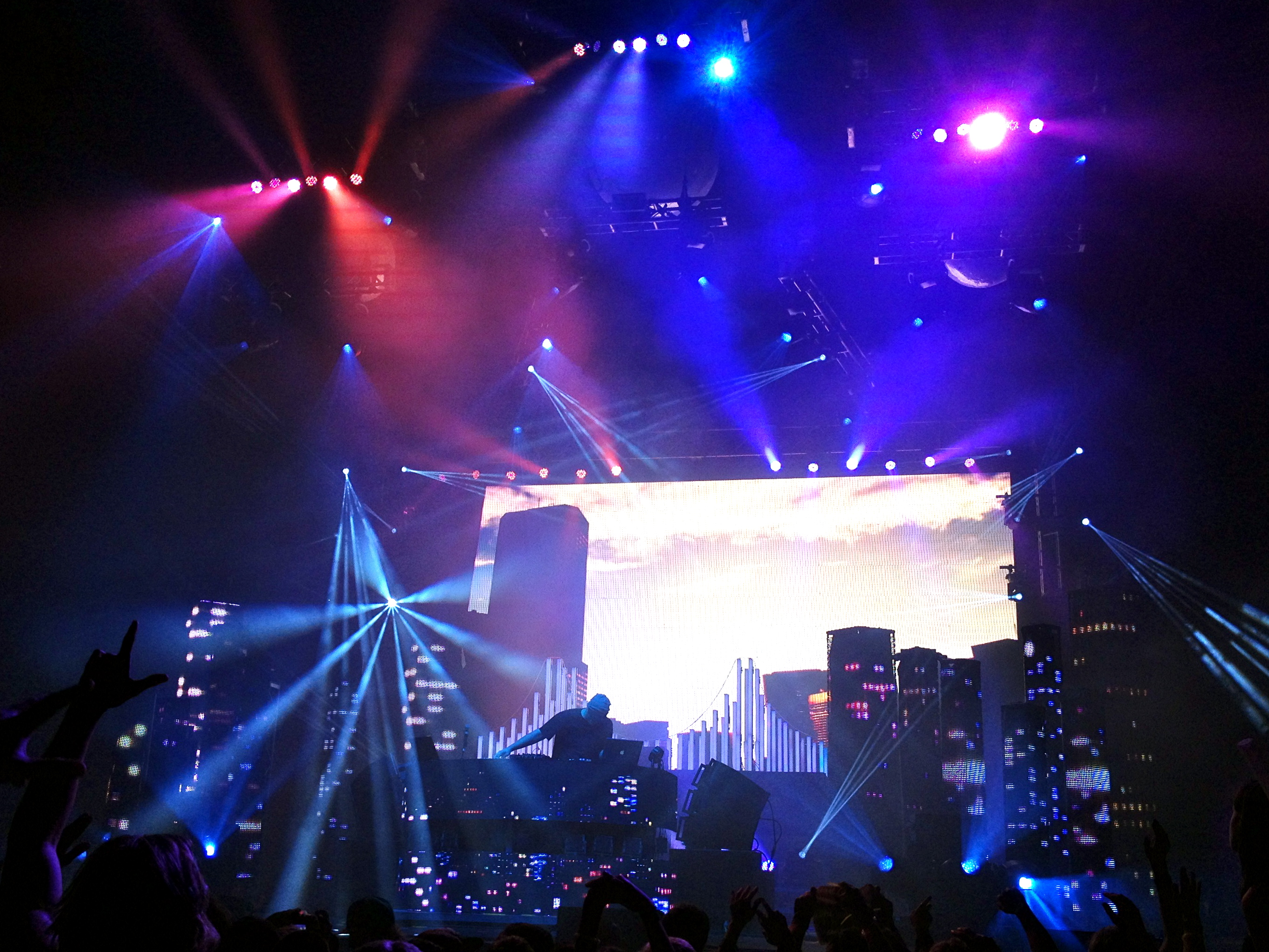 Last night, I had the incredible fortune of seeing both Pretty Lights and Bonobo for the third time, and Eliot Lipp for the second. It was an absolutely amazing night. Eliot Lipp opened with a very solid DJ set of his unique, psychedelic music. He is one of the artists on Pretty Lights' label, and is definitely worth checking out. The last time I saw him was the first time he had ever performed with a live band, which, while interesting in concept was a little rough around the edges, so it was cool to see him more in his element. He definitely delivered as a DJ.
Bonobo, as always, was incredible. He is a ridiculously talented musician and producer, and never does the same thing twice, so its always cool to see what he throws down at any given show. Last night, he did some interesting tweaking of a couple of his iconic original tracks that I have heard before, and played a bunch of really interesting music that fell somewhere between deep house and old school British DnB/dubstep. I have no idea if it was his own music or not, but regardless, it was very cool.
Although both of the above were very, very cool from a musical standpoint, I found myself kind of getting lost in the music and nodding my head while a lot of people around me who weren't as into that aspect of electronic music began to grow impatient. Although it was all somewhat danceable and bass heavy, it wasn't quite enough to make the crowd go wild. However, the second the 5-minute countdown to Pretty Lights' set flashed onto the big screen, that all changed. Derek Vincent Smith, aka Pretty Lights, brought it to another level and made the crowd go absolutely wild. His performance last night definitely reaffirmed my opinion that he is hands down the best producer in the game.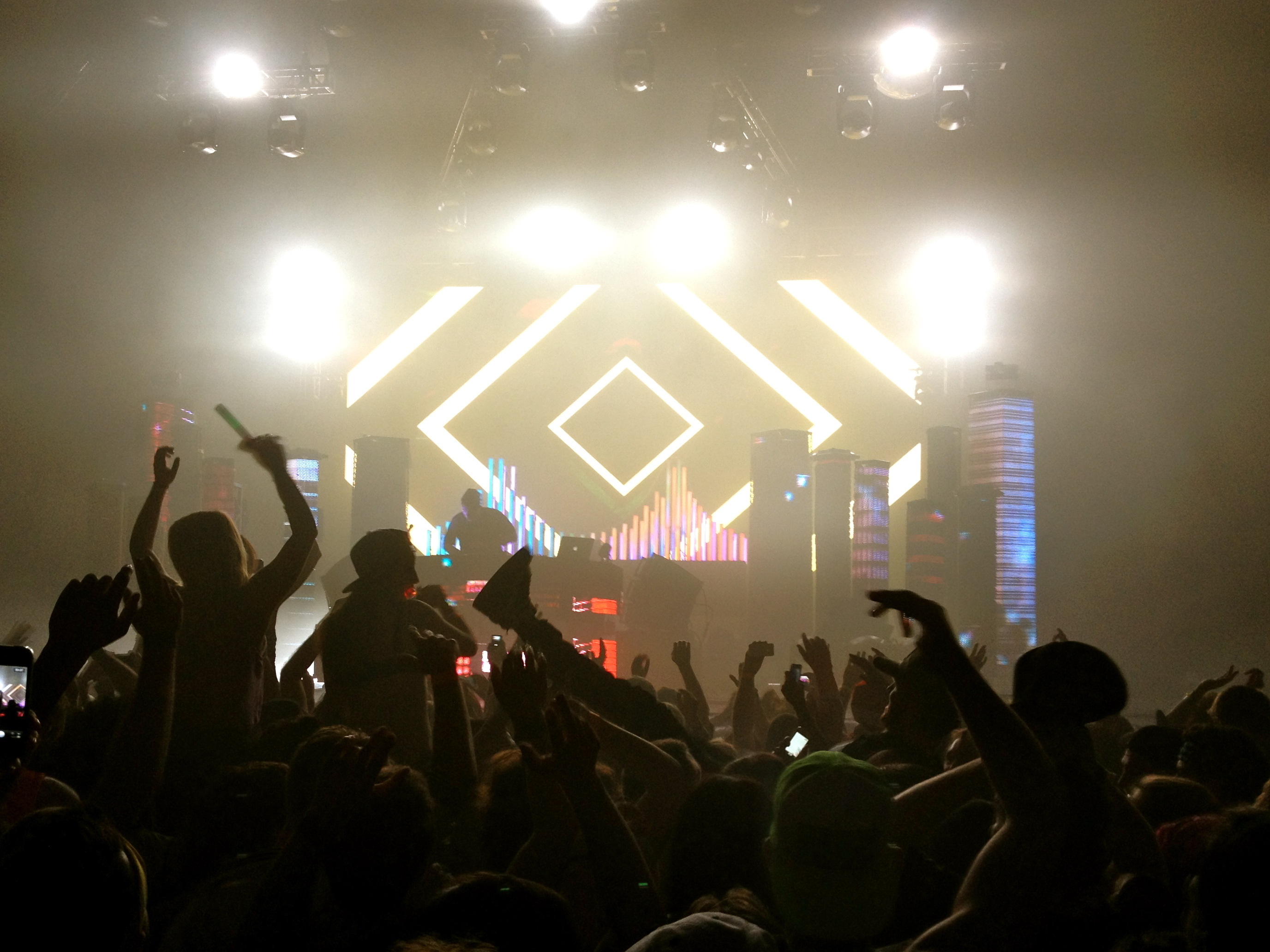 To give a little bit of background, Derek has been producing for several years, and first hit it big with 'Finally Moving,' a really interesting hip hop version of Avicii's 'Levels' (just kidding). Since his start, Derek has posted every single thing he has released to his website for free download, which has proven to be a fantastic business decision. He has escalated to fame without any reliance on any kind of a label, and now has managed to start his own label under the same philosophy which garnered him so much success. The man is his own boss, and can pretty much do whatever he wants. As it turns out, "whatever he wants" has taken the form of an album that from the looks of it, will be game-changing, which he has been working on for over a year. Derek was originally a jazz bassist (just like me!), and the way he decided to make this album was to have jam sessions with a huge variety of different musicians and vocalists from diverse backgrounds and styles, recording everything in the process. He then took these recordings and pressed them to vinyl, which he used to create sample-based electro beats like he usually does, only made of these original recordings instead of bits and pieces of other people's music. The result is a hybrid of many very different things, and this tour, he has finally started playing cuts from this album at his shows.
Anyway, back to last night. The countdown began, and the crowd almost instantaneously got in the zone. It started with some very jazzy stuff that most likely came from some of the aforementioned jam sessions, and built into a banger I have never heard before as the countdown ended and he ran out. I can only assume that this track was from the new album, and it was incredibly cool. It, as well as all of the new music that he played last night, had this incredible texture to it while also being very well-written musically, in a way that Pretty Lights has always danced around but never fully realized. If you have heard the tracks 'So Bright,' and 'I Know The Truth' which he has released already, then you know what I mean. Its like a mixture of deep, heartfelt acoustic music and funky electronic bangers that makes you dance your ass off while also being struck by the beauty of what you are hearing, which I find to be an extremely rare combination. I, for one, am beyond stoked for this album to be released, and you can expect another review from me as soon as it comes out.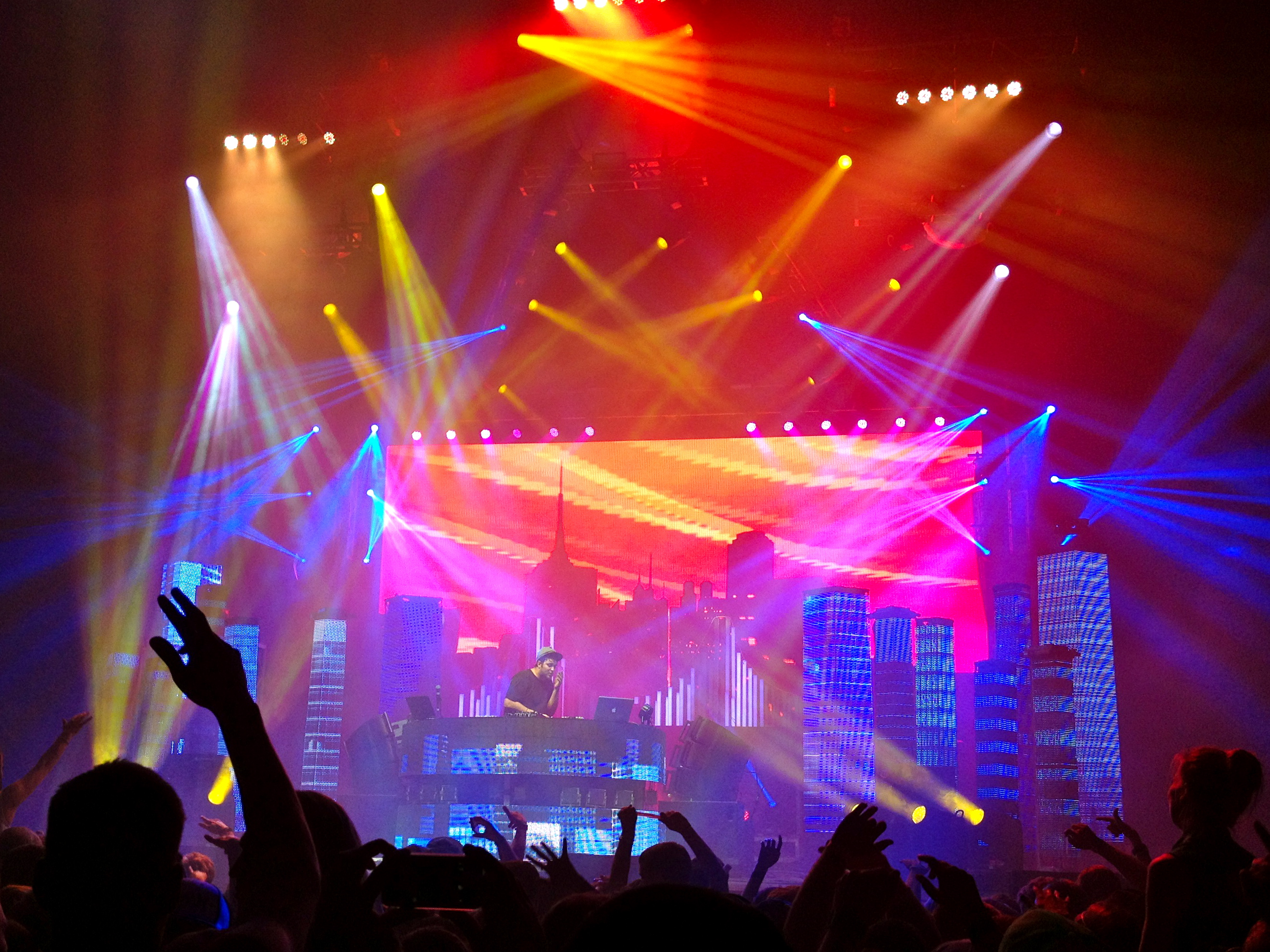 Aside from his new tracks, which I could go on about for days, Pretty Lights does an awesome job of bringing fresh versions of all his older music to the table every single tour. It's a smart move, as a lot of musicians struggle to balance their desire to play the new music they're really excited about and their fans' desire to hear the music they already know. Derek's solution is to take those older tracks and just keep making new versions of them as his sound progresses. This creates a very cool experience for the acute listener to hear how he approaches his beat-making from a mental standpoint. Highlights included a crazy, even more bassed-out version of 'Still Night,' and an almost DnB-tinged version of 'Out of Time,' which are the first two tracks on his 2010 EP Glowing In The Darkest Night, as well as a very housey new mix of his 'Chicago Bulls Theme' remix, which was the first song in his encore. He also played the original version of 'Finally Moving' into the electro remix he released on Filling Up The City Skies, which was pretty cool (both of the above albums can be found and downloaded for free in the downloads section of his site). There were a ton of other interesting new versions of songs, as well as some that remained untouched, such as his amazing remix of 'Empire State of Mind,' which was fitting considering the location, and I was absolutely loving all of it the entire time. His light show, as you can see from the pictures (courtesy of my awesome girlfriend), was pretty unreal. The bridge and screen behind him added a whole new dimension to his visuals, which capture the aesthetic of nighttime in a city perfectly, and the lights were complimented by a ton of artsy pictures on the screen, many of which were most likely taken by Derek's girlfriend Krystle, who is a very talented photographer (jazz-bassists-turned-producers have a thing for photographers apparently).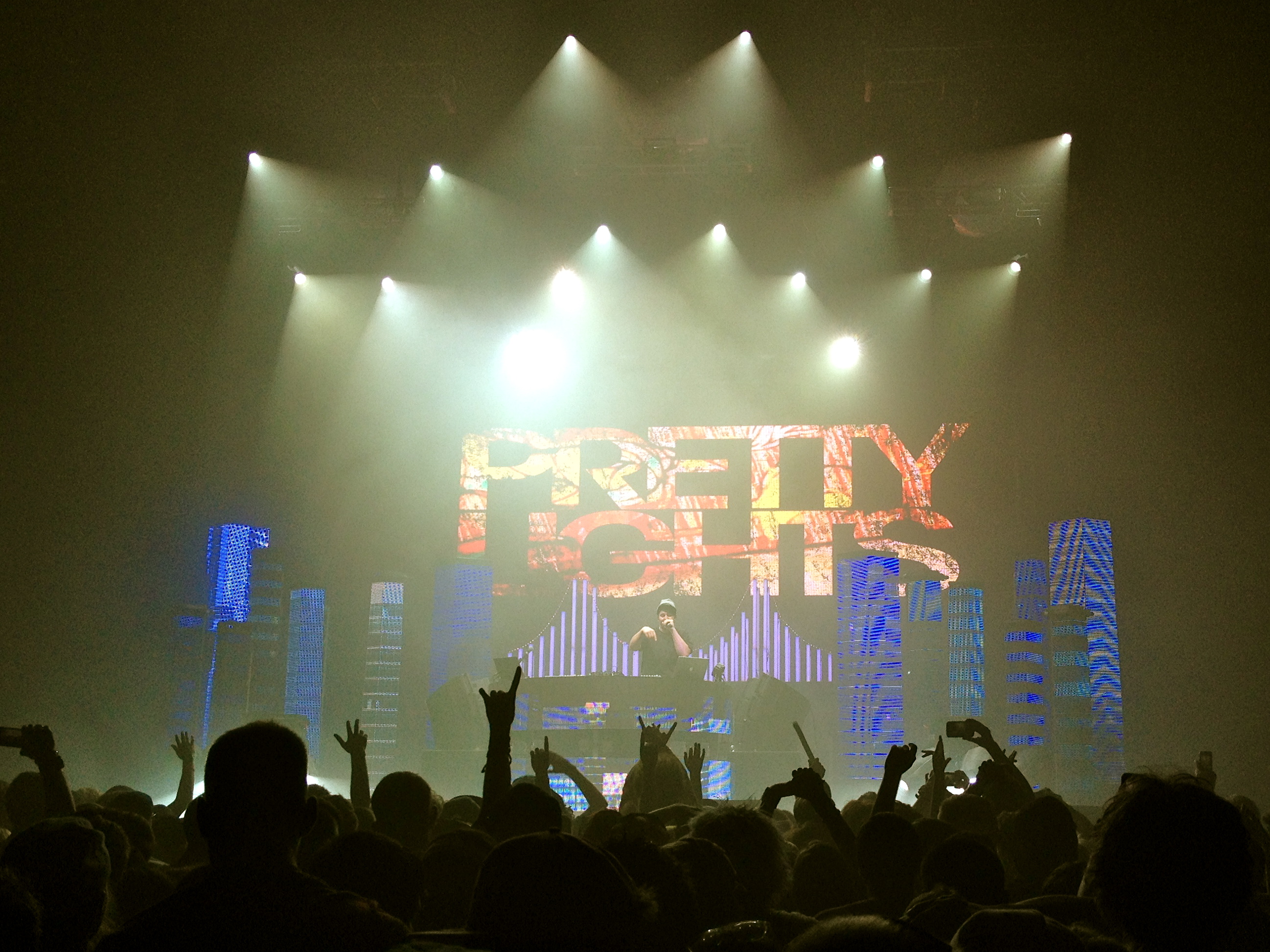 The highlight of the show, as it should be, was undoubtedly his encore. He saved several bangers for the very end, and it was well worth the wait. As I mentioned already, it began with an updated version of his 'Chicago Bulls Theme' remix, and moved into updated versions of his remixes of 'The Final Countdown' and 'After Midnight,' both of which can be found on the album NYE 2009 (Midnight at Vic Theater). Personally, I always thought these two remixes were some of his best work, and I never thought I would get the chance to hear them live. I was beyond stoked that he played them, and it was infinitely more amazing to hear live than the recording from '09 could ever come close to replicating. After that, he finished with I Know The Truth, which was a great choice of ending song. It had possibly the most energy of the entire night, and made me want to stay for hours longer and rage my face off.
In conclusion, Pretty Lights is an absolutely incredible producer. Although his new album does not have an official release date yet, I am already breathless with anticipation for it. I read an interview with him from a while back where he said that he was considering charging money for this album, which he has never done before, and surprisingly, I have found myself hoping that he does. Keep in mind that his is coming from someone who shamelessly pirates everything, and just hear me out. Derek Vincent Smith has released 8 albums and several singles free of charge, all of which have been of a better caliber than most music that you have to pay for, and has asked nothing in return. If there is any producer that deserves your money, it's him, and I know that I will not hesitate for a second to pay whatever price he sets for this album. There is no doubt in my mind that it will be worth every penny.
Pretty Lights – So Bright
"Like" Pretty Lights on Facebook here
Comments
comments

<!-comments-button-->