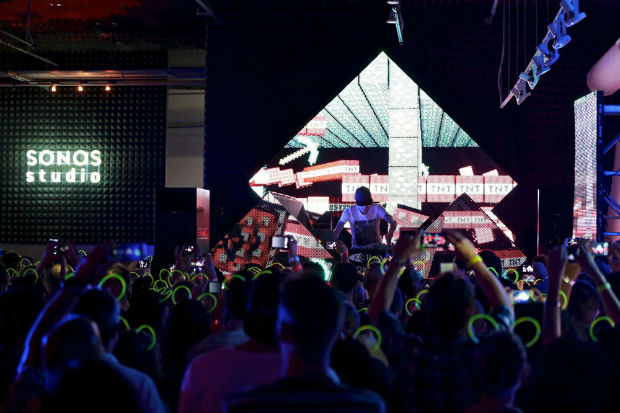 Deadmau5′ cube was one of the most iconic stages in the industry, and recently it was announced that Joel would be retiring the epic stage setup, but not without a worthy successor.
Last Friday Deadmau5 invited a small group of his hardcore fans, also known as "the horde" to an intimate show held at the Sonos Studio in Los Angeles.
The main purpose was to show off his clever new design, one that he's been trying to show us since the summer. At The Veld Festival in Toronto myself and thousands of fans all waited in anticipation for the new stage to be shown off during his set, but the stage couldn't be pulled off properly.
For now, the new stage design is being labeled "the mini cube" due to it's prominent resemblance to it's predecessor. Check out the picture and let us know what you think of his design!
Also, if you have the time, listen to the interview, it's always interesting to take a look into the mind of the great Deadmau5.
Heres an excerpt from a recent interview Joel did for MagneticMag.
"How do you keep bringing it up a notch?" MagneticMag asked.
"Oh man, I wish you asked me this question a year from now, 'cause damn, oh man," Zimmerman replied. "I've got some things in store that are insane. We were going to do the last Cube show at Creamfields, and I brought like a $5K camera and I was like, "I'm going to film this in iMax quality and it's going to be amazing. Then the whole festival got cancelled.

"At this festival in Canada called The Veld, everyone thought it was going to be the new stage. But we couldn't do the production we really wanted. It's so hard not to drop what [the new stage concept] is. It is so bloody amazing, and I can't believe no one has thought of it."
Comments
comments

<!-comments-button-->