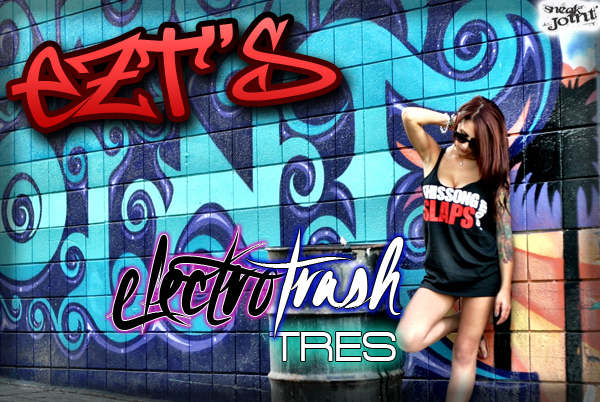 Boom. This week I'm droppin' tracks I swore I would never tell anyone about, some real WMD's from my DJ sets the last couple of months.
The first bomb this week comes from across the ocean, Russia. DJ Antention is a name I hope you are all starting to get familiar with. If you aren't yet, now you'll have reason to start following this guy like you're a lost puppy. DJ Antention takes one of my all time favorite tracks by Cyberpunkers, 'Cabala,' and turns it into something terrifying. Backed by Tuff Em Up Records, this heavy hitter is on the rise in the scene and for reasons your ears will thank you for.
Next on deck we have another remix of a classic Cyberpunkers track, 'OMG.' Turns out I listen to Cyberpunkers way more than I thought. Tom Deluxx's remix of 'OMG' features perfect sampling of the original track and a bassline perfectly capable of turning any dance floor into a riot.
Last on deck is a track by Ocsis called 'Blast!.' Ocsis is a name I entirely planned to take to the grave, entirely too talented to tell your homies with below average musical taste. Blast! starts with a huge organ that sets the tone for a bassline that will make your body tremble, cause uncontrollable head banging, and most importantly leave a mushroom cloud above any dance floor it is dropped on. This track will straight up blow your speakers, and your mind.
After your save up enough money to pay for a noise ordinance ticket, it'll be time for next weeks ElectroTrash Tres. See ya then.
– EZT
Track #1 – ElectoTrash
Cyberpunkers – Cabala (DJ Antention Remix) [Download]
Track #2 – ElectoTrash
Cyberpunkers – OMG (Tom Deluxx Remix) [Download]
Track #3 – WTFTrash?!
Ocsis – Blast! [Download]
"Like" DJ Antention on Facebook Here
"Like" Tom Deluxx on Facebook Here
"Like" Ocis on Facebook Here
"Like" EZT on Facebook Here
Comments
comments

<!-comments-button-->