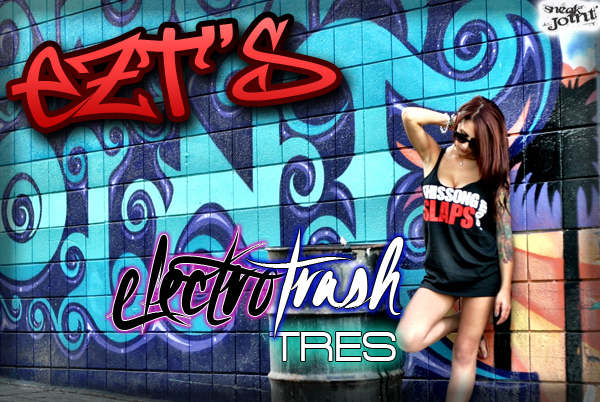 Electro fans, today I'm stoked to present to you the second author featured on TSS besides myself for our new weekly series, EZT's ElectroTrash Tres:
Do you find yourself waking up at the crack of three in the afternoon, wearing last nights vodka saturated clothes, your breath tastes like hints of Red Bull but mostly like a carton of cigarettes, and your head feels like your brain tried to escape with a wrecking ball? You roll off the couch you found, realize you still have your phone and your Nixon, you lace up your Vans, throw on the stunna shades, and hello new day.
Familiar? Good, this post is for you.
ElectroTrash Tres is dedicated to brining you only the finest of beats that make you say "WTF is that?!" If you could stop head banging and control your hips maybe you could ask the person next to you, but its not very likely. This weeks bag has some oldies, some up and comers and some hard to find gems. But mostly its just really disgusting.
My name is Trenton Balstad, I produce and DJ under the name EZT. As a Colorado native, I've been exposed to the massive growth of EDM that has taken the state by storm. I've become a product of my environment, I live for monster bass lines and trashy synth leads. As a DJ and producer in one of the fastest growing dance scenes in the world I'm constantly exposed to the latest and most gruesome tracks. My love for the scene has lead me to where I am today, and I'm committed to providing TSS with the absolutely trashiest tracks I've heard every week. Stay tuned for a heavy load of garbage every week. Ya feel me homies?!
– EZT
Track #1 – ElectroTrash
Bloody Beetroots Ft. Steve Aoki – Warp 1.9 (GTRONIC BadAss Remix) [Download]
Track #2 – TrashStep
ShockOne Ft. Phetsta – Crucify Me (Part 2) [Download]
Track #3 – PaletteCleanserTrash
Afrobeta – Play House (Dirty Talk Remix) [Download]
"Like" EZT on Facebook Here
Comments
comments

<!-comments-button-->