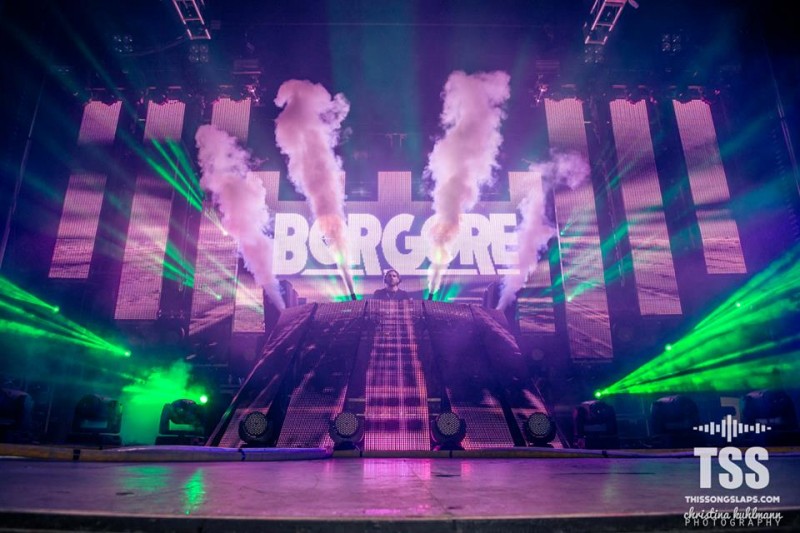 Last week I had the pleasure of attending Life In Color in College Station, Texas, home of Texas A&M University and Johnny Football Manziel (Gig 'em.) Apparently it is also home to some of the most ratchet partiers in the South because some of the things I saw at this show will forever be burned into the pleasure centers of my brain. Paint looks good on everyone.
So I get to the venue and there are police cars everywhere, not a good start. Honestly though that was only the fault of the College Station Police Department (Can I get a 'fuck the police'?), and can't be blamed on L.I.C. or the event company, Silver Platter Entertainment, at all. Once inside the venue I headed straight to Borgore's trailer because i'm a fangirl and I just wanted to twerk it for him..Or to take vodka shots with the legend. After that I headed on stage to watch David Solano and that was one of the best decisions I made all night because watching him play from behind the scenes was absolutely mesmerizing. His visuals on screen were cool and all, but watching this guy mix was such a treat, the dude has skills.
5..4..3..2..1..BORGORE
Borgore stepped on stage and the atmosphere in the crowd instantly got dirtier, and I mean that in a good way. I have said it before, and I will say it every day, Borgore is my favorite live DJ of all time. His mixing is unmatched, and his song selection is absolutely perfect. He played all of my favorites, as well as a few new tracks that he was playing out for the first time. Honestly the highlight of my night was hearing him play 'Love', which is one of my favorite songs from the Israeli legend but I had never heard him play it live before that night.
This was my very first paint party and honestly I don't think I could have picked a better event to attend. Life In Color and Silver Platter Entertainment were both excellent hosts and made my experience there absolutely incredible. Props to everyone!
Check out the amazing pictures that our resident photographer/author/PLUR-Mom took, HERE!