Currently viewing the tag: "Faceasaurus Rex"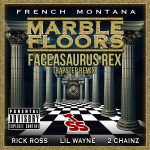 Our friends making up Faceasaurus Rex who brought us the insanely popular trap remix of Carnage & Borgore's collaboration house anthem "Incredible" are back with a fresh new TSS Exclusive release. This time the Philadelphia-based duo has taken French Montana's hit track "Marble Floors" featuring Rick Ross, Lil Wayne & 2 Chainz and turned it into a menacing "trapstep" monster.
[TSS Exclusive] French Montana Feat. Rick Ross, Lil Wayne & 2 Chainz – Marble Floors (Faceasaurus Rex Trapstep Remix) | Download |
"Follow" Faceasaurus Rex: | Facebook | Twitter |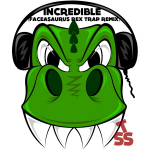 Today we've got a fresh TSS Exclusive to kick off your Monday right coming from Philadelphia-based producer/emcee duo Faceasaurus Rex who turned Carnage & Borgore's incredible new house anthem rightfully titled "Incredible" into a trap monster waiting to rip up your speakers. You might remember this name from back in June when we featured Faceasaurus Rex' massive dubstep/glitch hop remix of Tyga's "Rack City" titled "Rex City", but if you don't, this killer trap remix should refresh your memory just fine. Crank up your speakers with the bass knob to MAX, press play, & enjoy the free download below courtesy of Faceasaurus Rex.
Carnage & Borgore – Incredible (Faceasaurus Rex Trap Remix) [TSS Exlusive] | FB Download |
"Follow" Faceasaurus Rex: | Facebook | Twitter |
Faceasaurus Rex is a dub/house/rap group hailing from Philly that all currently attend Temple University. This new trio consists of KDUB producing, DJ Dougie doing the mixes, and Grand Marquis on the bars. 'Rex City,' puts a dub/electro spin on Tyga's smash song with Grand Marquis putting in a few verses of his own. Definitely one of my go to songs this week.. Enjoy!
Faceasaurus Rex – Rex City | Direct Download |
"Like" Faceasaurus Rex on Facebook here