Currently viewing the tag: "delta heavy"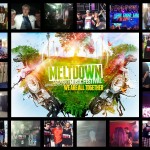 Just when we thought our day had gotten as good as it could possibly get down in Dallas, we headed to Lizard Lounge to check out the Meltdown Festival After Party. We arrived about an hour before Carnage was set to go on so we took a seat and enjoyed the opener. To our surprise the opener, Johnny Funk, was extremely impressive. His transitions were smooth and his song selection was killer. It was a really good energizer heading into Carnage's set. After running into a speed bump and dealing with the ridiculously rude staff and security at Lizard Lounge it was time for Carnage round 2 of the day. But seriously, the bouncer at Lizard Lounge who made Wesley and I buy $20 shirts because our TSS tanks were against dress code can go suck a dick.
Unlike at Meltdown Festival, Carnage got to play a full set this time, uninterrupted. The most insane part was watching him drop some of the best unreleased Festival Trap I have ever heard in my life. He just has so many songs in his arsenal that have the ability to make crowds go crazy. Despite already dancing our asses off all day, the energy brought to the after party kept us going and going and Carnage was in the zone.
Shortly after Carnage dropped Katie! we headed upstairs to hang out with Adventure Club, Flux Pavilion, Delta Heavy and many others. It was truly a surreal moment being in a room with all these amazing artists that we listen to daily, but we had no idea what was about to happen. Shots were passed around, beers were cracked open and everyone was having a great time. As Carnages set was winding down it was almost time for Flux Pavilion to hop on. Suddenly brilliance struck the room when Delta Heavy and Flux decided they would do an extremely rare and surprise back to back set. A look of amazement and shock came over the faces of the TSS crew. Were we really about to witness this unprecedented set? Hell yeah we were!
I got to talk to Flux before he went on. He was in a great mood and was having a great time. We got to talk about his set earlier that day and his Diplo and Friends Mix he had prepared as well. I even got the chance to admit to him that his Electric Zoo set with Doctor P was absolutely life changing. He had a big smile on his face talking about how it all went down.
Anyways, it was time for the set. Everyone filed out of the green room and down to the booth where my mind was about to be blown. You see because up in the green room I was just excited to see Flux play a live set in such a small venue, so I didn't really pay much attention to the person he was talking to about joining him on the decks. About 10 minutes into their set, Wesley leaned over and yelled "I CAN'T BELIEVE WERE THIS CLOSE TO FLUX AND–" but it was too loud to hear so I just nodded my head and agreed anyways. 5 minutes later during a more quiet part of a song I looked at Wesley and asked "Wait so who is the guy spinning with Flux right now?" and a confused look came over his face as he said "Dude, that's fucking Delta Heavy!" and when I said earlier that our minds were about to be blown, I mean that in that moment my mind literally almost exploded from an overload of sheer joy and excitement. The dancing got pretty intense after that.
For the next hour and a half we got to witness pure greatness. The two bass Gods basically read each others minds and had perfect song selection and smooth transitions. I absolutely lost my shit when they transitioned 1, 2, 3 (Make Ya Body Wanna) into Thunder Bay! Not even Flux himself could believe it. He and Delta Heavy had the biggest smiles on their faces and they looked like they were having a blast.
To say the least, the after party was an experience we will never forget. We got to witness one of the most rare back to back sets to ever grace the scene. We can't thank the artists enough that performed and hung out with us. It was great to meet you all and we can't wait for the next time.
PS. – If you guys missed out on Flux Pavilion's Diplo & Friends Mix we will have it for you on the site shortly!
Want to WIN a FREE TSS GEAR PACKAGE? Enter our giveaway contest here: http://bit.ly/ZMVGGo
"Follow" CARNAGE: | Facebook | Twitter |
"Follow" Flux Pavillion: | Facebook | Twitter |
"Follow" Delta Heavy: | Facebook | Twitter |