Currently viewing the tag: "Decisions"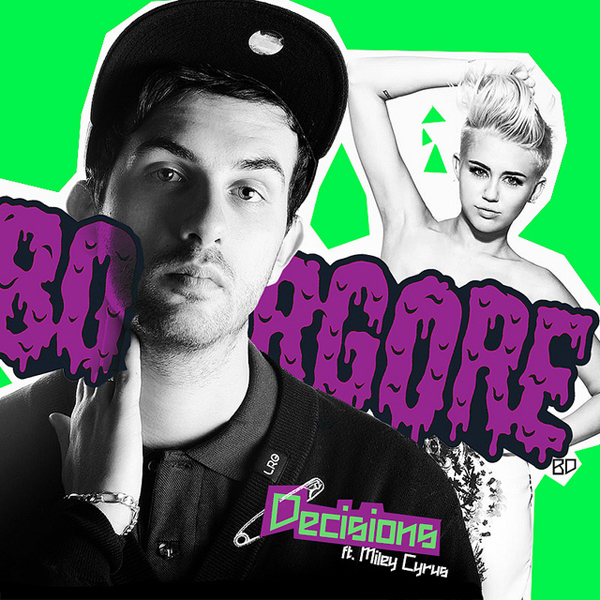 Wow. This remix is beyond incredible and my mind is officially blown. Not only has Cincinnati's James Ruehlmann, better known by his quickly rising stage name Mutrix, blown my mind once again, but he has taken my favorite song produced by one of the biggest names in bass music, Borgore, and elevated it to a whole new level of excellence. 'Decisions' featuring pop star Miley Cyrus was released on Borgore's Decisions EP back on June 18, 2012 and featured the original, the dub mix, and two incredible remixes from Cedric Gervais & Dead Audio. In my opinion, Mutrix' takes the cake (no pun intended) out of all four versions, hands down. Be sure to head over to Mutrix' Facebook page below and hit the "like" button to show some love after you come down from this music high. Also, peep the official music video of the original 'Decisions' below if you want to see some Miley Cyrus girl on girl action with porn star Liam Hemsworth. Enjoy!
Borgore Ft. Miley Cyrus – Decisions (Mutrix Remix) | Download |
Borgore Ft. Miley Cyrus – Decisions [Official Music Video]

"Like" Mutrix on Facebook here
Following up his hugely popular remix of The Beatles' classic hit 'Eleanor Rigby', Houston-based Feature Cuts drops his second official single titled 'Decisions'. I really enjoy watching Feature Cuts progress as an artist because a while back, he sent me a personal message letting me know that if it wasn't for my support, he would have given up on his career as a musician, and look at him now! I've included a message that he left with the release of the track below. Enjoy!
I'm definitely in the midst of developing my own style. I have been ever since the beginning. It's been a battle, is a battle, and will be a battle. I've entitled this release "Decisions," to evoke the journey thus far in an audible format. Decisions are the hardest thing to make, yet they're such an important part of our lives. For the things that I cannot put into words, I have music act as my spokesperson.
Feature Cuts – Decisions | Direct Download |
"Like" Feature Cuts on Facebook here
Borgore, the man who claims he "ruined dubstep," returns with the release of his latest Decisions EP out today as a Beatport exclusive, followed by a full release July 10 via iTunes. Borgore takes over the bass music throne with the title track 'Decisions,' accompanied by remixes from French house producer Cedric Gervais and Dead Audio, along with his own Dub Mix reworking. Download the original 'Decisions' below in a full 320kbps and grab your copy of the EP on Beatport.
Borgore – Decisions (Original Mix) | Direct Download |
"Like" Borgore on Facebook here