Currently viewing the category: "Future Funk"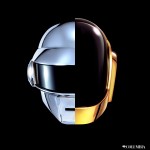 So while Daft Punk may not have played at Coachella last night, they sure did make a pretty big deal out of a preview for the track 'Get Lucky'. Before the Yeah Yeah Yeahs went on stage, this preview lit up screens and we see the longest clip of the track yet (at least that hasn't just been looped) and the track is performed live with Nile Rodgers on guitar and Pharell on vocals.
The latest rumour floating around now is a release of the single on April 15th, but I'm not sold, I'll believe it when I buy it from iTunes. Anyway, what we can confirm is that the androids are certainly back, and preparing to perform, even if it's not at Coachella.
*UPDATE*
US label Neon Gold confirming on Twitter that Daft Punk members Thomas Bangalter and Guy Manuel de Homem Christo were in attendence at the premiere.
Watching that whole Daft Punk thing unfold at Coachella was the biggest emotional roller coaster I've ever been on

— Neon Gold Records (@neongoldrecords) April 13, 2013
Also standing directly behind the real life actual Daft Punks watching over everything as it happened was a bit of a moment

— Neon Gold Records (@neongoldrecords) April 13, 2013
Daft Punk – Get Lucky | Pre-Order |
Thomas Bangalter and Guy-Manuel de Homem-Christo describe "a sense of searching for a record [they] hadn't done" in the wake of their now-legendary Alive 2007 tour. Their first studio album since 2005?s Human After All came together in numerous studios across the globe over the five years that followed.
"There are songs on the album that traveled into five studios over two and a half years," Bangalter says. "They're vials being filled up with life. Today, electronic music is made in airports and hotel rooms, by DJs traveling. It has a sense of movement, maybe, but it's not the same vibe as going into these studios that contain specific things."
The two songs featuring Pharrell apparently came together after the rapper offered to contribute in any way – even play tambourine – at a release party for Madonna. Bangalter and de Homem-Christo also found time to reconnect with good friend Kanye West to lay down beats on two songs in a "raw" jam session replete with improvised lyrics and primal screams.
In an age in which electronic music production has never been more digital, it makes all too much sense that the arguable forefathers of the current EDM movement would go entirely analog. In fact, Daft Punk's new album contains only one sample altogether, eschewing a once fundamental source of their sound for live studio musicians who had played with the likes of Michael Jackson and Eric Clapton.
"We wanted to do what we used to do with machines and samplers," Bangalter explains, "but with people."
"It's not that we can't make crazy futuristic sounding stuff," Guy-Manuel adds. "But we wanted to play with the past."
The French robots have also embraced a new look to accompany the album's throwback sound, ditching Human After All's leather jackets for sequined suits by the same designer.
While the robot duo claim they"have no current plans" to tour, they all-but-confirmed that they will eventually return to the road with a career-spanning set list.
Random Access Memories Track-list:
1."Give Life Back to Music" (featuring Nile Rodgers)
2."The Game of Love"
3."Giorgio by Moroder" (featuring Giorgio Moroder)
4."Within" (featuring Chilly Gonzales)
5."Instant Crush" (featuring Julian Casablancas)
6."Lose Yourself to Dance" (featuring Pharrell Williams and Nile Rodgers)
7."Touch" (featuring Paul Williams)
8."Get Lucky" (featuring Pharrell Williams and Nile Rodgers)
9."Beyond"
10."Motherhood"
11."Fragments of Time" (featuring Todd Edwards)
12."Doin' It Right" (featuring Panda Bear)
13."Contact" (featuring DJ Falcon)
"Follow" Daft Punk: | Facebook |