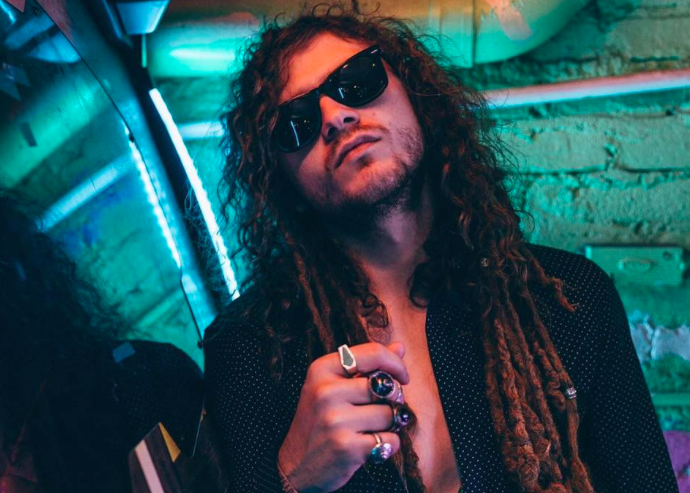 2018 is proving to be quite the year for Downlowd. The Los Angeles-based DJ and producer recently came out with a dope new single and is now getting ready to drop his new EP, 'Origins,' which is set for release in March. We had the pleasure of interviewing Downlowd and hearing all about his dream collaborations, his plans for the rest of 2018 and so much more. Listen to "Enter The Maze" and check out the exclusive interview below.
Downlowd- Enter The Maze | Download |
TSS: Tell us about yourself. What do you want people to know about Downlowd?
Downlowd: Downlowd is more than just an electronic music project- there's an emphasis on immersion and storytelling that I'm trying to convey here which kind of exists beyond the musical spectrum. That being said, beyond the animation, beyond the computerhead, music is definitely the foundation of all of this- that's where it all began… The computerhead character, Downlowd, came soon after, but it wasn't until these last couple of years that I decided to really take the comic book approach and attempt to marry the magic of dance music with cool stories. It was like, hey, I've got this great character, I'm making all this music… where can I take this now?
TSS: How would you define your sound?
Downlowd: I really try not to pigeonhole myself as far as genre goes, because I believe there's so much value to creating whatever inspires you as an individual, but as an emerging artist, I think it's important to give people a foundation with which to bond with your work. I would say most of the music I'm creating right now is House and Electro or in some way influenced by those genres. I didn't mean for it to happen, but my forthcoming EP, 'Origins' is kind of a love letter to the music that I first fell in love with when I truly discovered dance music.
TSS: Who is your dream collaboration and why?
Downlowd: This is probably one of the toughest questions, so I have to answer it in installments. If we're talking in terms of vocals and pop artists, I think I would die to work with Dido. I just think she is so unbelievably talented. I grew up listening to her, and I feel like our styles would mesh in a really interesting way, plus I don't see nearly enough major vocalists making fluid transitions into the dance music arena beyond remixes. I'm honestly answering this on a whim, though because there are a billion other talented vocalists I'd kill to work with…Kylie Minogue is the godmother of dance music and I just don't think she gets nearly enough love or appreciation from those that are more fresh to dance music. I'm also a huge huge huge huge fan of Birdy.
If we're talking about producer collaborations, Lazy Rich and Zedd are two of my biggest influences in the Electronic Music world, to produce a tune with either of them would be really interesting, but I would give both of my kidneys, liver, stomach, spleen, pancreas, and probably all other organs to make tunes with Shellback or Max Martin. Those guys are beasts beyond any comprehension.
TSS: You've been releasing chapters alongside your recent singles. What made you decide to do this?
Downlowd: As I kind of previously touched on, Downlowd is more than just music. Each track I release (sans remixes) is a chapter in Downlowd (the animated character)'s story. The fiction that I write that comes with each tune is supposed to kind of tie the tracks together.
You'll find, by reading the "chapters", that the text fills in space for the audience to get more information about Downlowd and his world. It's more about Downlowd's story and isn't necessarily what's happening in the actual song, as I believe the cinematic nature of my music should be telling much of the story, inherently. Also, I'm very confident that there will be opportunities to flesh little bits out more in the future.
I guess the important thing is I really want to give my audience something more to sink their teeth in to, given the dispensable nature of music these days. My team and I work really hard, and I guess I'm lucky that people have kind of been gravitating towards this and the sound, so I'm very grateful right now and just hoping this continues to grow. The cool thing is we don't know how far this could really go, but from some of the meetings I've taken and entities I've spoken to, the possibilities are really exciting. It's safe to say you can expect the first installment in Downlowd's first comic journey, 'JAILBREAK' packaged with my forthcoming EP.
TSS: What was the inspiration behind your recent track, "Enter The Maze?"
Downlowd: Enter The Maze marks the moment when Downlowd is escaping the 'Genesis' facility where all Computerheads in his world are made. GF is a vast place filled with digital bottomless pits, rivers of corrosive chemicals, mech security, and other genetically modified baddies you wouldn't ever want to meet IRL. I wanted to paint that picture with this tune. "Enter The Maze" has got a lot of creepiness and it's very dynamic… I guess I envisioned Downlowd kicking all kinds of ass and making his way out of this cybermaze Indiana Jones style.
Beyond the story, I think as a song, "Enter The Maze" has a lot to do with getting lost in your own mind and consciously becoming someone you don't recognize… What happens when you lose yourself, you know?
TSS: You're set to release your debut EP, 'Origins,' in March. What can your fans expect from it?
Downlowd: Expect some adventure, obviously some really great music, and as previously stated you can definitely expect some comic goodies in the form of the first installment of a brand new Downlowd story.
TSS: What do you have in store for the rest of 2018?
Downlowd: For the rest of this blessed digital year, you can definitely expect me to continue creating worlds with my animated Computerhead alter-ego, but wait- there's more.
I'm really excited for the next couple months because they're going to be insane. I'll be opening in direct support of Feed Me and Angelz at Exchange LA on February 23rd, then I'll be at SXSW in Austin for selected dates on the music portion of the festival (i'll be posting info on my socials)! I've currently got my next video in production, and it's going to be something really special. Beyond that, I'm gearing up for some dates across the USA this summer… I hope to convert more humans into Computerheads!
"Follow" Downlowd : | Facebook | Twitter | Soundcloud |
Comments
comments