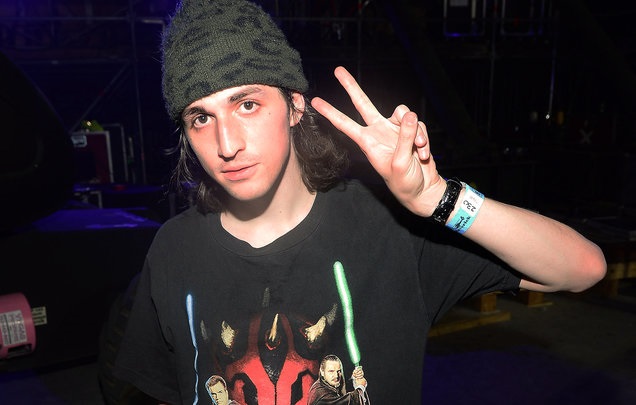 Porter Robinson's newest project, Virtual Self, is gaining a lot of deserved attention and sending shockwaves through a rather stale electronic music community. With just 2 releases and 1 show booked in NYC, Virtual Self is on the rise to be the next big thing, but is Porter just making this any ordinary project? Of course not.
We had a source do some digging and found some interesting information. When searching for Virtual Self trademarks we came across 5 active entities. Bear with us now because this is where it gets interesting. Most of the trademarks filed seemed pretty standard, but a couple stood out. On top of that, some of these were filed around the time Virtual Self became active and releasing music and more importantly in North Carolina, where Porter Robinson is from.
Take a look…
We'll detail each one but pay close attention to item 4.
"Blogs for discussing music, musicians, films, television programs, and entertainment events; conducting entertainment exhibitions in the nature of contests, screening of recorded entertainment content, and personal appearances by musicians; Entertainment information; entertainment services in the nature of providing information regarding musical groups, musicians, musical sound recordings, music videos, music and licensed merchandise via a website; entertainment services, namely, providing podcasts in the field of music; fan club services; live musical performances; music composition services for others; music publishing services; non-downloadable audio/visual recordings; non-downloadable musical sound recordings; online computer games; organization and production of entertainment festivals; personal appearances by musicians, disc jockeys, and musical groups; producing musical audio and video recordings; providing a website featuring non-downloadable videos in the fields of music and entertainment; song writing services; web-based service providing live musical performances, music, and entertainment festivals"
"Audio-visual recordings; box sets, namely, music gift sets containing phonograph records, CDs, and bonus items in the nature of entertainment books, art prints, sheet music, and posters; cases, skins or covers for cell phones, PDAs, laptops, handheld gaming devices, tablet computers, and other electronic devices; computer games, namely, computer game discs, programs and software; computer storage devices, namely, flash drives; Downloadable computer wallpaper and screen saver software; downloadable electronic publications in the nature of books, booklets, magazines, journals, brochures, pamphlets and newsletters, all in the fields of music and subject matters generally related to entertainment; Downloadable images in the field of music; downloadable music; downloadable video recordings featuring music; electronic game programs; electronic sheet music, downloadable; headphones and earphones; loudspeakers; musical sound recordings; musical video recordings; pre-recorded compact discs, audio cassettes, DVDs, videotapes, and audio/visual discs, all featuring music; video game discs, programs, and software"
"Computer game software; electronic game software; downloadable software for use in connection with computer games; downloadable computer game software and entertainment software, namely, ring tones, graphics and digital audio files for use with mobile and cellular phones and other wireless devices; computer software for real-time generation of music; video game discs; virtual reality software for playing computer game"
"Virtual reality peripherals adapted for use in playing video games; wearable computer peripherals for use with computers, video game consoles, virtual reality devices, augmented reality devices, handheld video game consoles, tablet computers, mobile devices and mobile telephones adapted to enable virtual and augmented reality experiences; platform for use in playing virtual reality games and simulations"
"Downloadable musical sound recordings; Downloadable podcasts in the field of music and entertainment; Downloadable video recordings featuring music; Downloadable Webcasts in the field of music and entertainment; Sound recordings featuring music; Downloadable ring tones for mobile phones; Music videos and graphics recorded on computer media; Downloadable digital images containing artwork and text related to a record company's musical artist or musical artists; Music videos recorded for wireless communication devices; Downloadable musical performances, downloadable prerecorded musical videos, downloadable prerecorded film clips, downloadable photographs, and other downloadable multimedia files featuring information in the fields of music and television, commentary and articles about music and television, and personal and musical information regarding a record company's musical groups or performers and their live and recorded performances, all online via a global computer network"
Could Porter Robinson be bringing Virtual Self to Virtual Reality? Maybe his first show in NYC will feature a live stream VR component? Who knows. We have no confirmation on any of this, but it's certainly not out of the realm of possibility but fun to speculate. Porter is a generational musical talent with a brilliant mind and team, if anyone can take the next step and make something like this happen, it's him.
Comments
comments