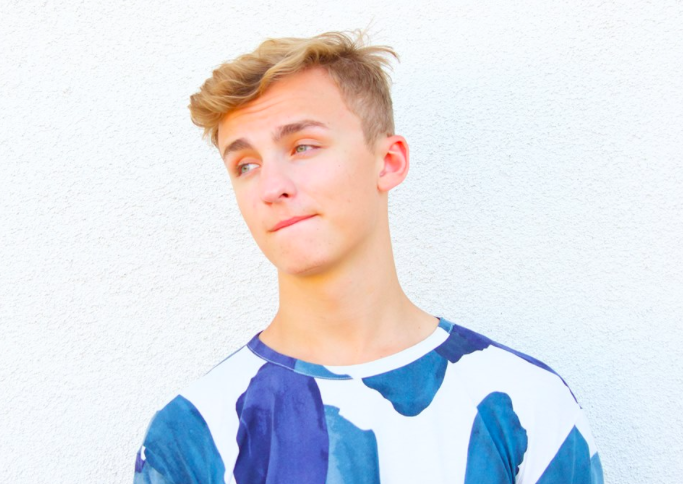 Caden Jester is a 19-year-old music producer on the rise and while he discovered his passion for music early on, 2017 has proven to be a big year for him. With a new release, which came out today, and various projects in the works, Caden has a lot to celebrate.
We had the pleasure of interviewing Caden Jester and learning more about his background, his new single, "Fade," featuring Butterjack, and his musical influences. Check out the exclusive interview below and make sure to listen to "Fade!"
Caden Jester (Feat. Butterjack)- Fade | Download |
TSS: Introduce yourself – what should people know about Caden Jester?
Caden Jester: I'm 19 years old and I was born and raised in San Diego, CA. I have 4 siblings (2 brothers and two sisters) who I pick up from school and cook for a few times a week. Aside from music, I love fashion, traveling and learning about new cultures. I live about a 10-minute drive from Mexico, so I can drive there and back in under an hour lol. Living so close to the border and having a mostly Colombian family has really had a profound effect on me. I absolutely love Hispanic culture and the Spanish language (which I speak some of), and I even lived in Colombia over the summer with my Grandparents in a city called Girardot. I've traveled to Italy and England, and when I was in England I took a course at The University of Oxford, which was really fascinating.
TSS: You discovered your passion for music as early as 10 years old. At what point did you decide to turn that passion into a career?
Caden Jester: I don't think I ever really "decided" to turn it into a career. I just kept making music as the years went on and it kind of just happened. I wouldn't necessarily call it a "career" just yet because I'm still living with my parents and not exactly making a living from it, but all signs are pointing towards that being a real possibility for me.
TSS: How has your music evolved over the years?
Caden Jester: Ohhhhhh man, this is a fun one. Well, I first started off making beats like what I heard on the radio. Then one day I discovered Basshunter and my life was changed. I started making that style for a solid 2-3 years, and slowly transitioned my way into house, dubstep, electro and trap ("EDM," I guess you could call it). This is all before I was even 15 lol. Around 16-17 years old, I began making a lot of future bass (think Wave Racer, Cosmo's Midnight, Lido, etc.). Now, my music is heavily influenced by R&B, house, and pop. I have produced a lot of different styles over the years so I'm really prepared when new production opportunities arise, I'm not only limited to one or a couple styles.
TSS: Who are some of your musical influences?
Caden Jester: Daniel Caesar, John Legend, Disclosure, Frank Ocean, T-Pain, Major Lazer, Gabriel Garzón-Montano, Will Heard, Leon Bridges, Michael Jackson, Jaden Smith (yes, he is amazing I don't care what anyone says), J Balvin, Nicky Jam, Justin Bieber, Drake, Calvin Harris, The Weeknd, Khalid, and many more… This is probably too long of a list lol. But there are more. I could have made this 4x as long if I didn't hold back.
TSS: If you could collaborate with one artist, dead or alive, who would it be and why? 
Caden Jester: Michael Jackson 100%. One of the best artists to ever live.
TSS: What's one venue or festival you hope to play in the future?
Caden Jester: You know, I haven't really thought very much about performing yet. But for the direction I see myself heading with music, Coachella would be a huge milestone for me.
TSS: What was the inspiration behind your new single, "Fade?"
Caden Jester: As far as the lyrics go, you'll have to ask Butterjack because he wrote it lol. My inspiration, however, was to just make an amazing track. Originally, I was trying to take it in a more chill direction, something like Passionfruit by Drake but I wasn't feeling that direction very much so I ended up taking it in a more upbeat, poppy direction.
TSS: What else can your fans expect from you this year?
Caden Jester: Well this year after Fade, I have some music planned for release that you would most likely not expect from me based on my past releases. I'm actually working on some music in Spanish with a duo called SYON from Tijuana, Mexico. I'm also working on a lot of dancehall/R&B influenced music with an artist who lives in Kenya named WillX BOY and I'm working on singing on my own music, which will probably debut sometime next year. That stuff is very pop/R&B with some island and Latin vibes. I am VERY excited to share that all with you and if you have read this far, know that I love you and thank you for supporting me!
"Follow" Caden Jester: | Facebook | Twitter | Soundcloud |
Comments
comments