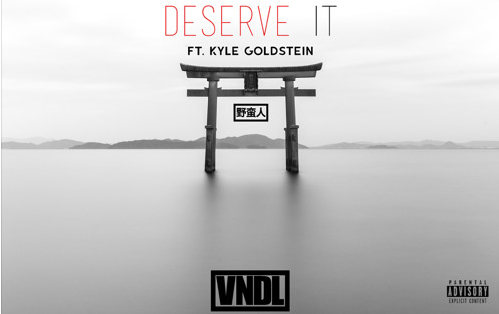 You may remember VNDL as the up-and-coming producer who won LUMBERJVCK's "LITM" remix contest, and for good reason. The New Yorker's production is so clean that it's hard to believe he's not a seasoned veteran in the game.
His latest release is entirely different from the trap and future bass music that he normally puts out. Instead, "Deserve It" branches out into hip-hop and rap territory. However, despite being a complete 180 from his signature style, VNDL and featured vocalist Kyle Goldstein absolutely kill it.
"Deserve It" starts off slow and steady before bursting into a glistening beat. Kyle Goldstein's lyrical flow drives the song forward by acting as the perfect reminder on how to keep your head up during those darker times. All in all, "Deserve It" is flowy and uplifting, which makes it the perfect track to jam out to on those Summer night drives with friends. But most importantly, "Deserve It" acts as a marker of putting VNDL on the map as a diverse and well-rounded producer. Keep your eye out for VNDL, folks. He's definitely going to be making some waves in the music scene, I'm sure of it.
VNDL – Deserve It ft Kyle Goldstein |
"Follow" VNDL: | Facebook | Twitter | Soundcloud |
"Follow" Kyle Goldstein: | Facebook | Twitter | Soundcloud |
Comments
comments