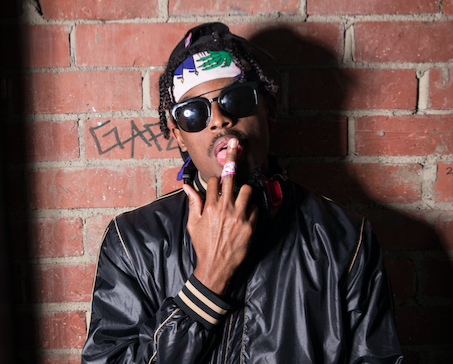 Reggie Baril, better known as ToBy, is a multitalented artist on the rise. He's an actor, a playwright, a director, a musician and a member of the BARIKUDAxDEATHWISH rap crew. While ToBy isn't exactly new to the music scene, 2017 has been a big year for him. Not only did he recently graduate from Florida International University but he's also getting ready to release his new EP, 'El Prado Blvd.'
We had the pleasure of chatting with ToBy and learning more about his background, his influences, his new single "Erase The Day" and his upcoming EP. Check out the exclusive interview below and make sure to listen to "Erase The Day!"
ToBy + The KUDA Live Band (Feat. Helen Tess, A-Bomb, Krass)- Erase The Day | Download |
TSS: Tell us a bit about yourself. How'd your musical alias, ToBy come to be?
ToBy: I was always really into writing as a kid so when I started making music I thought of my songs as letters to people. When you separate the name you get "To" and "By" as in "To: You" and "By: Me."
TSS: You recently graduated from Florida International University. How'd you celebrate this exciting accomplishment?
ToBy: The day after my graduation I flew to NY for a Joey Purp concert that got canceled. :(
TSS: Your new single "Erase The Day," has a catchy, summertime feel to it. What went into creating this feel-good track?
ToBy: We were all chilling at the Prado House and Ruben had some leftover vocals from a Helen Tess session that never got used so we opened a new session and created the beat around her singing. A-bomb came through to the house with his mic setup and heard what we were working on and wanted to hop on. Krass is my best friend and a fellow BARIKUDAxDEATHWISH member so I knew I had to put him on the track, he always kills it.
The song itself is about regret and hindsight but also looking forward to the future. The summer vibe was a fun vehicle for us to get the message across.
TSS: What was the inspiration behind your upcoming album, 'El Prado Blvd?'
ToBy: We came up on a house our bassist was watching over for two weeks so we moved in and set up a mini studio to crank out the entire project. It was written, produced and recorded at the house in the two weeks we were there.
The inspiration behind the project was to be as original and creative as we all wanted to be.
TSS: What's your dream festival or venue to perform at?
ToBy: I have a couple, I've thought about this a lot.
Festivals: Made in America, SXSW, iiipoints in America, Odd Future Carnival, Lollapalooza (Childish Gambino and Chance live streamed their performance on my birthday and I'll never forget that).
Venues: Madison Square Garden, Radio City Music Hall, I've always had a dream of doing a show in a theatre space like on Broadway. I'd also love to do a boiler room set.
TSS: Who are some artists you hope to collaborate with in the future?
ToBy: Well Childish Gambino is hanging up his hat, but I'd love to collaborate with him in any way I could. Tyler and Earl were in heavy rotation in high school. I'm a huge fan of El-P's production and love Run the Jewels. My favorite band is The Killers so to link up with them on something would be a dream come true. I like to think bigger than my scene and my hometown, I really wanna go after the biggest achievements possible.
TSS: What else do you have in store for 2017?
ToBy: I'll be moving to LA to be closer to my management. I'm super excited, I think it's going to do a lot for my career. I'm sitting on tons of new music (no touring plans as of yet) so for now I'm just going to keep building and go wherever this takes me.
"Follow" ToBy: | Facebook | Twitter | Soundcloud |
Comments
comments