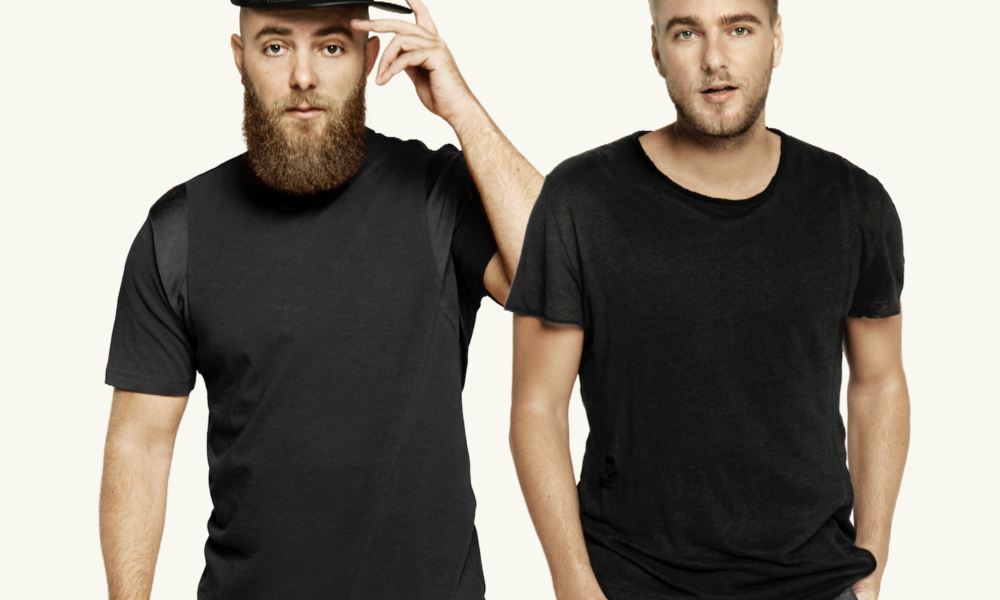 Following their hit track with Major Lazer "Believer", Showtek is back in action with a new single and music video "On Our Own" released on Armada. "Believer" ended up getting 75 million plays on Youtube for the official and lyric video. The video is about the Syrian refuge crisis and sends a very powerful message. Also Major Lazer & Showtek had both videos link to the Save The Children site in order to raise awareness.
Showtek continues to create inspirational videos with their new release "On Our Own". The guys used the video to express the importance of individuality through choreography and art. They also featured cities and urban landscapes that they have been inspired by after moving to the US. Major Lazer and Showtek have really stepped up the lyric video game for everyone.
We got to sit down and talk with Showtek about "On Our Own", working with Major Lazer, touring, & more. Check out their new single & music video for "On Our Own", and interview below!
Showtek – On Our Own (Official Lyric Video)
TSS: You guys are brothers, what sparked the creation of Showtek? Have you guys always been into music together?
Showtek: Wouter was more into piano and Sjoerd jumped into a software beat editing program.  We fused our talents and created Showtek. We both loved music and decided it was fun to just mess around with the sounds and the keyboard, with no expectations what so ever.
We started working together in this little office room we had when we were kids next to our mom's bedroom. At night we would bounce our songs on a cd and go to the park blasting it on a boombox to analyze our productions. We didn't think about splitting a headphone back then but we always wanted to play our stuff loud. So at 3 am you would find us in the park blasting our music for an hour and then we'd head back to the office to alter songs.
TSS: The music video for your new single "On Our Own" is one of the coolest lyric videos we've seen in awhile. What's the inspiration behind it? Could you tell us more about the meaning behind it and why it's important?
Showtek: We always find it hard to appear in the video and make it look credible and cool still.  This one embodies the song and message in a more cool and easy way by showing you the urban landscape that we feel inspired by, especially since we moved to the US (Wouter in NYC and LA, Sjoerd in Miami). A big metropolitan city is a place where you can feel super lonely but also super inspired like the world is on your feet. Moving to the US from a relative small city in the Netherlands called Eindhoven was a big inspirational journey for us. As teenagers we took a shot of doing what we felt comfortable with and following your dreams.  Hopefully we can inspire the next generation by showing how we feel and what we stand for.
TSS: Your single "Believe" with Major Lazer was a huge hit how was it working with them? Can we expect any more Showtek / Major Lazer collabs in the future?
Showtek: We joined forces a while ago and we are fans of each others work. We produced Believer back in 2015 but with our crazy schedules and releases it was hard to find the perfect release date. Hopefully we will work on more stuff together!
TSS: Speaking of collabs..you guys have had so many great ones. Whose been your favorite artist to work with?
Showtek: Everyone we collaborate with has been a great experience. The songs we did with David Guetta has gained us a lot of recognition, but working with Major Lazer gave us also great perspective on how to make songs sound differently. So this question is a tough one because we love all the artists we have worked with.
TSS: You guys have been touring for such a long time. What's been your craziest / funniest tour story?
Showtek: Yeah we have!  One time we missed our flight to Ibiza (Spain) to do a show with David Guetta. This was when we just started working together, so we weren't sure if we could ask him for a huge favor yet, but we did.
We called him up and said:
David: Where are you?
David : I'm in London.  I'm on my way to Spain, why?
Showtek: We missed our flight.  Can you pick us up on the way?
David : WHAT??? That's so expensive.  We have to organize a private landing and reschedule with the crew and pilots.
Showtek: Yeah we understand. Sorry we won't be there tonight then…
David: Arghhh, ok if you do a remix for me I will pick you up
Showtek: DONE
TSS: What can we expect from Showtek in 2017?
Showtek: We are working on a lot of new songs, some of them made for festivals, some more reggae minded, some with a strong message about how we feel…  Emotional I'd say, some of them still typical Showtek festival stuff. We want to explore different types and styles of music and create one big fusion of what we love.  So you'll definitely hear some surprising Showtek music coming up.
"Follow" Showtek: | Facebook | Soundcloud | Twitter |
Comments
comments