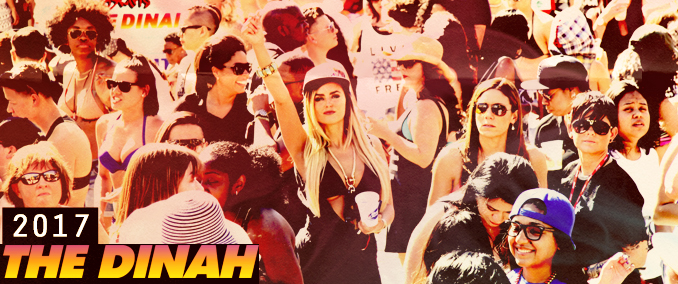 Dinah Shore has been synonymous with "best LezBiQueer Party of the year" ever since opening its doors back in 1991. Claiming that it's iconic within the queer community is an absolute understatement.
However, with queer women being less than 5% of the world's population, the number of spaces specific to them have unfortunately been diminishing over the years. Especially today, as queer spaces and rights are put under attack, Dinah Shore acts as the rock for queer women to turn to in order to experience not only fun, but also a tight-knit sense of community. Now more than ever is the Dinah Shore the ultimate event to support and cherish for providing a haven of merriment for the queer women community.
Taking place from March 29 to April 2, 2017 in Palm Springs, Dinah Shore is going to be 5 straight days of decadent celebration filled with a dashes of serendipitous sin and debauchery. Activities include a comedy show and parties with performances from KITTENS, Lizzo, CeCe Peniston, Black Box, and more! However, when there's so much fun to indulge in, taking care of the logistics may seem like drag. That's where Meg Cale of Dopes On The Road and Kate Ross of DC's The Coven come into play.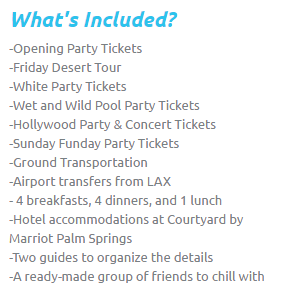 From March 30 to April 3, both Meg and Kate have planned an incredible 5 days in order for you to shake off the stress and only focus on fun. As Dinah Shore veterans, these two ladies know the ins and outs of the shore. Their all inclusive getaway is the perfect option for those who have a group but want to make even more friends, or those that crave the shore and have no one to go with alike. Regardless of your plan, Meg and Kate have totally got you covered. For $1,055 you receive everything listed on the right. This is around $600 less than the packages Dinah Shore is selling…and it includes meals! Doesn't get any better than this, right?
From celebrity appearances, to watching your favorite DJ's play while dancing with your friends, and even just having the opportunity to immerse yourself fully into the queer women culture for 5 days straight…You won't want to miss the 27th annual Dinah Shore.
Dinah Shore website | Dinah Shore Getaway | All inclusive tickets
Comments
comments