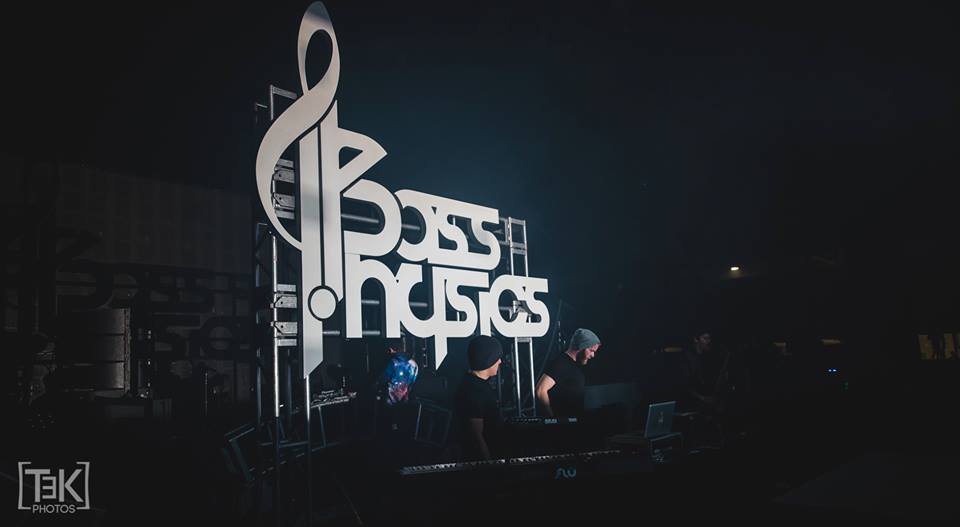 I was introduced to Bass Physics when a friend of mine played their remix of "Cool Kids" by Echosmith and I've been hooked ever since. Some musicians follow the "stay in your lane" status quo, then you have others like these two that destroy everything you ever thought was true and create their own lane. It seems like sub genres have become a new trend and although these guys have most definitely created their own sound they haven't lost touch with whats important. If you've seen them live then you know they are all about crowd control and put on a must-see show every time they take the stage. We were lucky enough to catch up and get them to answer a few questions that have been wringing our mind, hope you guys enjoy!
TSS: 2015 was a big year for you guys, what were some of the highlights?
BP: Our favorite parts of 2015 included our dream show of playing MainStage Red Rocks opening for Savoy. That was a huge milestone for us, on top of playing so many amazing festivals: Decadence, Big Dub, Euphoria, South Park, Dancefestopia, and Atmosphere gathering to name a few. Our biggest development and growth came from going on tour with Phutureprimitive. We had too much fun playing 34 cities and driving 220000 miles in a Jeep Grand Cherokee, learning what being a musician on the road is all about: the journey, not the destination.
TSS: Decadence was awesome, it was a pleasure catching you guys! That must have been a huge show for y'all; how do you normally prepare for events of that caliber?
BP: Although this was our 3rd time playing Decadence, we have never prepared for it on this scale before. We built our own stage thanks to Robbie Olberg of Golden Grain Designs and Evan Glantz of Third Eye Projections. It was a huge treat to play this year and we really went all out in production and new music. From tiny bar shows to massive scale festivals, we love throwing down and getting intimate with the crowd!
TSS: The on stage chemistry between you two is obviously there, how did you guys link up and when did this music thing become a reality?
BP: We linked up in college to make a track and took off from there. We both have always known we want to make music for a living, although Bass Physics happened out of divine chance, rather than purposeful intention. It was a long road and still is ahead of us, we are constantly still learning how to work better together everyday. Luke and I are like yin and yang, and that is what makes Bass Physics.

TSS: You guys have a unique swagger that I find super rare, where does your inspiration come from?
TSS: Our unique sound, we think, comes from the combination of our two preferences for music. Luke likes trance style, I like funky style… With a mix of other genres on both sides it creates a pretty cool sound on each track. We are trying to create, eventually, what we like to call, "Big Room Funk."
TSS: What drew you out to Colorado? Any spots you frequent or recommend checking out?
BP: We were both born in Colorado actually. Besides the obvious Red Rocks, Summit county is beautiful in the winter and summer. Hanging Lake is always legit and be sure to finish your hike off with a dip in glenwood hot springs.
TSS: If you could perform/collab with one artist dead or alive who would it be?
BP: Bob Marley, for obvious reasons.
TSS: When it comes to playing, what is you guys favorite venue and what is the venue of your dreams?
BP: Our favorite venue is Red Rocks because of the angle of the crowd and the natural beauty. The venue of our dreams would be to headline Red Rocks.

TSS: After such a bomb year, I have to wonder what's in store for 2016?
BP: We plan to kill it playing as many festivals as possible and release as much new music as we can. Our goal is to grow as individuals and as a band.

If you've never had the chance to witness these guys crush then the video below should give you a good idea of what that show is all about. The clip features their unreleased track "Euphoria" and footage from Decadence which was insane. I have a feeling Bass Physics is going to do stellar things in 2016, check their website/Facebook for tour dates and all that good stuff!
15k fans later and YOU have bought us here… Our new track Euphoria will be dropping soon, but in the mean time here's a little teaser with footage from Decadence. Big thanks to Clark from DYNOHUNTER and Third Eye Projections for joining us. – Video thanks to Ross Stoner of Coastless

Posted by Bass Physics on Saturday, January 9, 2016
Bass Physics Facebook/Twitter/Soundcloud/Website
Comments
comments