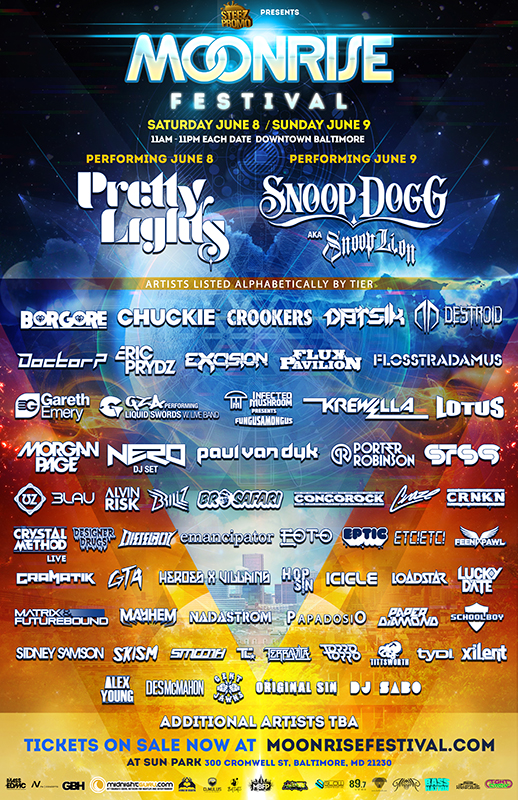 Well it looks like the first ever Moonrise Festival is shaping up to be quite the experience for us EDM lovers! When phase one of this amazing lineup was announced we heard all these big and unexpected names such as Pretty Lights, Porter Robinson, Doctor P and of course, Flux Pavilion. It's no secret that at This Song Slaps we absolutely love Flux. On a personal note, his music is what got me into EDM. The first Dubstep song I ever heard was his remix of Gold Dust and I haven't looked back since.
For those of you unfamiliar with Flux Pavilion's background: He is based out of the UK and is on the major record label Circus Records. Circus Records is actually on the brink of releasing another major album Called Circus Two on May 13th! This album features all their major artists which includes the likes of Doctor P, Cookie Monsta, Funtcase and many more. Flux's latest EP, Blow The Roof, was released back in January and completely revolutionized dance music for us bassheads. Songs like Do Or Die featuring Childish Gambino not only helped bridge the gap between the Hip-Hop and EDM genres but had one of the most addicting drops ever.
Not only is Flux Pavilion an extremely gifted producer, he is probably one of the most amazing live mixers to have graced the scene. If you've never caught Flux Pavilion do a back to back set with his partner in crime, Doctor P, you need reevaluate what is important in your life. They are one of the most deadly duos to have ever hopped on stage together. I will never forget when they performed together at Electric Zoo in 2012 because it forever changed the way I view live sets. Truly amazing.
It goes without saying that Flux Pavilion's set is #1 on my list for when TSS invades Moonrise Festival this June. After hearing his most recent sets from earlier festivals this year, I can guarantee he will be the most talked about performance after Moonrise has wrapped up. It's not easy to book this very busy man, especially in the US, so this will be something special. Also, I can now officially announce this to you guys: This Song Slaps will be doing an exclusive interview with the Godfather of Bass while we are at Moonrise Festival! Get ready for some insider info, crazy stories and what is to come in the future from Flux Pavilion.
Moonrise Festival | Tickets | Website |
Flux Pavilion – Blow The Roof EP | Beatport | iTunes |
"Follow" Flux Pavilion: | Facebook | Twitter |
"Follow" Moonrise Festival: | Facebook | Twitter |
Comments
comments

<!-comments-button-->